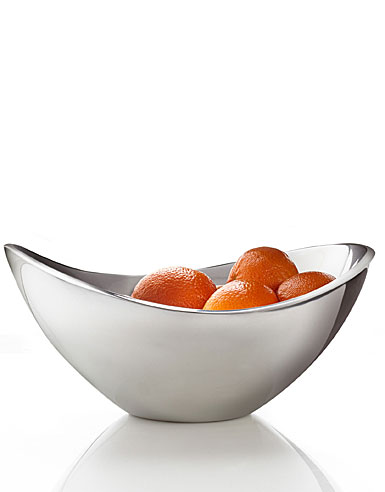 This gloriously curved vessel is simple and joyful, its elongated sides gracefully reaching upward like wings aloft. In contrast to its namesake, however, this Butterfly is solid, weighty, and unexpectedly practical. The Nambé metal from which it is made is excellent at retaining temperatures at either extreme and is perfectly suitable for use with food. It adds elegance to pasta served family-style and is your secret to consistently crisp salads. Or simply use it to display what you want close at hand; the lustrous interior reflects the colors and shapes of its contents, accentuating the beauty of whatever lies within. Can be preheated to 500 degrees or chilled in the freezer. Hand wash.
View the entire Butterfly Collection.
Nambe Metal 6 1/2"" Butterfly Bowl
$100.00
Item# 567N
Size: 6.5" Wx 7.5"Lx 3.75"H, Capacity: 16 oz.
---
Nambe Metal Butterfly 7 1/2"" Bowl
$125.00
Item# 569N
Size: 7.5" Wx9"Lx4"H, Capacity 1 qt.
---
Nambe Metal Butterfly 10 1/2" Bowl
$150.00
Item# 569BN
Size: 10.5" L x 9.25" W, 5.5"H, Capacity: 2 qt.
---
Nambe Allow Metal Polish
$12.00
2 oz.
Item# 901N
More Info >
---